Innos innovative solutions
No more problems with heavy snow on the roof with solar panels!
Excellence With Quality At It's Best!
Innos is an industry leader in Europe when it comes to solar energy solutions. We deliver the latest technology and the smartest solutions – so you and your business can take maximize use of the sun's rays and contribute to a better world in the process. Join and be part of a sustainable development. Welcome to a new and more climate friendly world. Welcome to Innos.
We are the industry heads and produce the most reliable and trendy solution you are looking for.
No more problems with heavy snow on roof with solar panels
CO2 friendly solar modules
Greener than green. The global leader in carbon footprint
By special design Innos Hold delivers a cost effective BIPV built on standard components. Tested and certified to International and Norwegian building installation standards. 
We develop and produce solar modules to meet your specific requirements. Tailor-made module no matter whether special sizes, special properties or coatings – we will find a solution for your application. 
The global leader in minimum carbon footprint. The unique production technology of Innos make solar modules with 40% less carbon footprint. Designed in Scandinavia. Produced in Europe.
A selection of our finished projects
Innos BIPV program supports our customer to replace conventional building materials in parts of the building envelope such as the roof, skylights, or facades.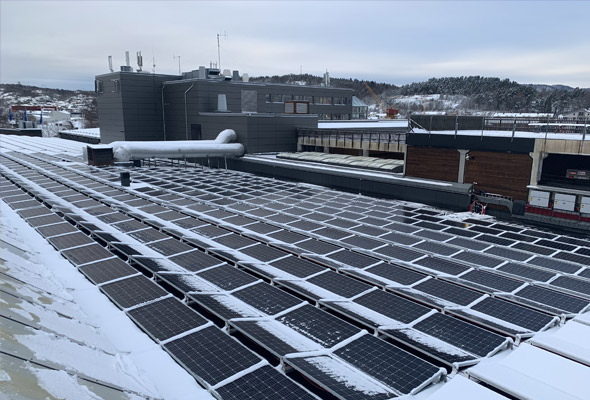 Heat cable drainage optimization. Integrated heating in roof material. Weight control system. Energy saving control system.
Innos Blue CO2 neutral PV-modules, heat cable drainage optimization. Weight control system
Need Help with Solar power solutions? We Are Experts!