We are the global leader in low CO2 solar modules which reduce your carbon footprint with our products
The experience and knowledge base of Innos is 100% utilized for creating high quality solar energy products and installations.
Innos is a pioneer in the energy industry that lives with the mission to create and deliver innovative green energy solutions. All our solutions have one thing in common – the sun. We're doing our part to help society reach a sustainable future, decreasing CO2 among other greenhouse emissions. We at Innos have a leading role in Europe, which resulted in a world record for solar panels with the least affect on the climate (CO2).
The global leader in minimum carbon footprint. The unique production technology of Innos make solar modules with 40% less carbon footprint. Designed in Scandinavia. Produced in Europe.
The benefits of solar energy are many. The sun's rays shine on the Earth whether we utilize its energy or not – solar energy thus doesn't harm the ecosystem, nor does it contribute to the increase in greenhouse gases. Using the energy that already flows to the Earth does nothing to the environment, nor to the humans and animals living in it. Moreover, solar energy makes the production of our own electricity possible, so much so that in the best scenario one can sell it to the public electricity grid. This results in less vulnerability at times of low access to power and rising prices for electricity.
Innos delivers innovative products and installations that aim to better sustainability. Primarily through solar energy products and installations of the absolute highest quality, including the latest technology in the field. This is made possible by our all-encompassing experience, our great global network and our industry insight. Among our solar related products and services one may find – among other things – photovoltaic modules (solar panels). We also launched what we call the Weight Watcher – a system that solves all problems with heavy snow on rooftops. With the Weight Watcher, the snow automatically melts once the solar panels detect the weight limit has been reached.
Installing solar panels is an investment that lowers operating costs and increases property value. Do you and your business wish to be kinder to the environment, while simultaneously reducing costs and increasing the worth of your real estate? Choose solar energy from Innos.
Let us at Innos help you and your business make the most of solar energy with our products and services.
You're welcome to contact us for more information, consultation, and offers.
We Are The Creators You Can Trust On For A Perfect Solution To All Your Needs.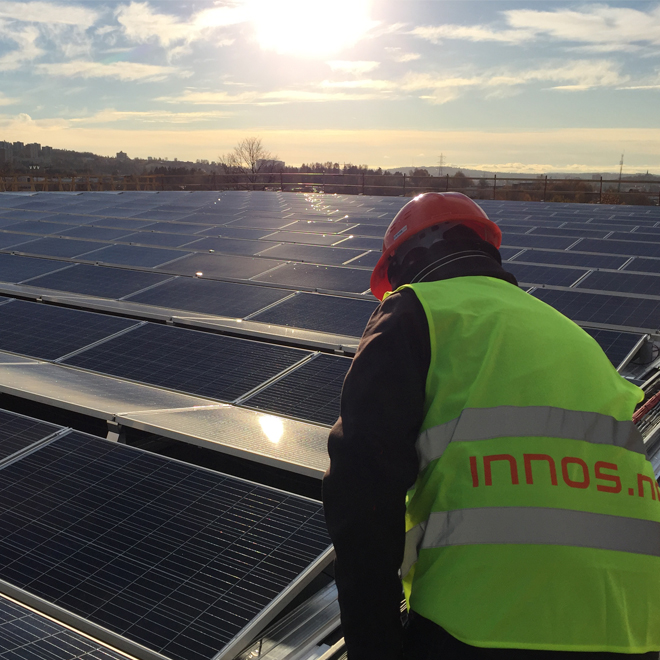 See some of our innovative products